Reuben Rogers - The Things i am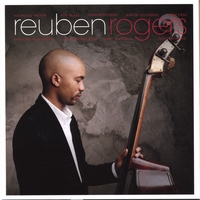 Reuben R. Rogers has a natural penchant for story telling. And Rogers, himself, will be the first to tell you his skills have coalesced under the influence of his impressive contemporaries.
Rogers' ability to transport the emotion of a piece into his accompaniment is akin to that of a fine woven tapestry, creating a blanket of rhythm and harmony that is welcomed by vocalists and instrumentalists alike. From a hard-hitting groove to a featherlike touch, with each interjection, Rogers echoes an affirmation of the soloist's statement, rendering a musical conversation in which the narrative is smoothly passed.
Click
here
to check out Reuben's new CD.